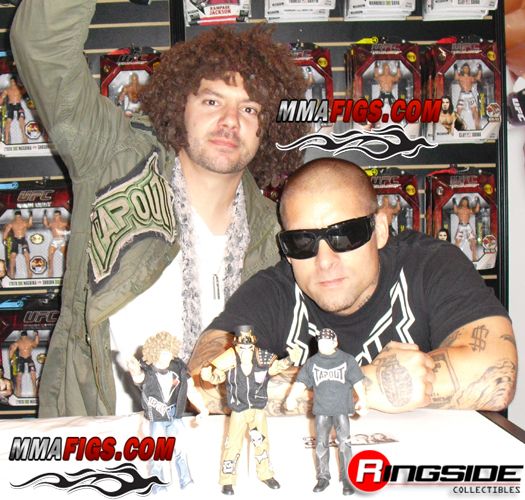 "Warrior", which comes out September 9th, follows the collision course of AWOL Marine Tommy Conlon, and his estranged brother, ex-fighter-turned teacher Brendan Conlon, as they compete in the biggest winner-takes-all tournament in MMA history. TapouT founders Punkass and Skyscrape, along with UFC fighters Rashad Evans, Stephan Bonnar, Anthony Johnson and Nate Marquardt appeared in this film, and we were sent this Q&A session with the members of TapouT, courtesy of Authentic Brands.
Q: What was your involvement in the film Warrior?
Skyscrape: We were signed to CAA and Howie Nuchow, who was our agent, came across this script that Gavin was doing for a MMA movie. Nuchow thought it would be good for Gavin to meet with us, not necessarily to be in the movie, but more in a technical advisory role. From there everything kind of started falling together. We ended up advising on aspects of the film related to MMA and he wrote us into the script.
Q: Do you believe this film represents MMA well?
Punkass: This film is so authentic that you will hardly be able to tell the fights you are watching are not real! Also, the situations and relationships between fighters and their families and job responsibilities is very accurate. This film represents MMA better than any other.
Q: Do you believe the hardcore MMA fans will feel satisfied with the film?
Punkass: That's what is so great about this movie. Both hardcore fans of MMA and a person who just loves a great movie will love Warrior. The MMA fan will see all the parallels that are going on today in MMA including references to the UFC and Characters like Koba that are very similar to the real life Fedor. I love the scenes in the beginning where Joel is fighting in a small show in the parking lot of a strip club. That is so true to life. The hardcore fans know all about those shows. Those types of fights used to be all throughout the country in the late 90s and early 2000s and they still go on today.
Skyscrape: This appeals to the real fans because there are real fighters and prominent figures in the MMA community throughout the film. Anytime you can bring real fighters into an MMA movie, the hardcore fans will like it. They will be the hardest critics but this movie will make everyone happy because the fight scenes are so realistic.
Q: How much input did Charles have on the film?

Punkass: Charles was talking to Gavin almost every day for a six-month period before he died. He was the reason why Nate and Anthony are in the movie and also why Greg Jackson was brought in as a technical advisor. Also, the Frank Campana character was based on Jackson as a coach because Charles had so much respect for Greg's coaching style. The character that director Gavin O'Connor plays in the movie was written for Charles. Gavin stepped in after Charles' death to play the roll. Gavin himself says the movie is a tribute to Charles and the first thing that comes up before the ending credits is a dedication. It means so much to me that Gavin dedicated the film to Charles.
Skyscrape: Charles was hugely involved with Warrior. His role in the movie was the role that Gavin ended up playing. Charles actually got Thiago Alves in the film but since Alves was fighting GSP at the time, he had to pull out. Charles would always brainstorm and discuss which fighters and officials would fit right in the movie. For example, he decided on Josh Rosenthal as the referee in the fights because if we had Big John or Herb Dean in there, they would have made the
fighters look much smaller.
Q: When you were selling TapouT shirts out of the trunk of your car in 1997, did you ever believe there would be a feature film about MMA?
Punkass: Maybe but that's because we we're always thinking big. It was just our mindset. But to actually see a movie of this caliber on the big screen, that we are acting in, and we have our clothing in, I probably didn't see that coming. This is a great thing for us but even better for the sport. This movie will expose kids, housewives, teachers, families; everyone who doesn't know will now become interested. Rocky changed boxing forever and that's what Warrior will do for MMA!
Skyscrape: Yeah. 100%. Charles and I used to have conversations where I would be sitting at the foot of his mattress on the floor saying one day we're gonna be in movies and music videos. Not that we ever sat there and said there is going to be a MOVIE about MMA, but we would always talk about how big this sport will be.
Q: Are there any current fighters that you believe Tom Conlon and Brendan Conlon emulate?
Punkass: Maybe you could kind of compare them to Matt and Mark Hughes. Both sets of brothers are welterweights who are great fighters. Really they are both pieces of several different fighters including Joel's character who is a teacher, which is a page from Rich Franklin's life.
Skyscrape: Tommy is the war hero so I naturally think of Brian Stann. He has a purple heart for his heroics overseas. With Brendan I also think of Rich Franklin. Rich taught math before he was a world champion and Brendan teaches physics in the film. I also see Chris Lytle in Brendan. Chris, who just retired, is a working class fire fighter who was fighting to make a living for his four kids. There are definitely a lot of parallels between Brendan Conlon and Chris.
Q: Previous MMA movies have been criticized for having unrealistically spectacular moves and finishes. How accurate are the fights in Warrior?
Punkass: All the fights in this movie look so realistic including all the transitioning between moves. JJ Perry, who has a stunt team in LA, coordinated the fights on the film and he's done movies like X-men, Haywire, Ironman, Underworld, and Avatar. He along with Greg Jackson made these fights come to life! JJ and I met for the first time on the set but by chance, or maybe
not by chance, he was also a friend of Charles from his early 20s. Charles trained with JJ for years when JJ was on the US Olympic Tae Kwon Do Team. When Charles and I became friends he used to talk about JJ all the time! Crazy that I didn't meet him until after Charles's death and on the set of this movie! Crazy how life works!
Skyscrape: We talked about this with Gavin. Not every fight is going to end in dramatic fashion but in the movie you have a mixture of everything! Fast fights that end in knockouts and tough fights that come down to the wire. It was really important to us that they mix up how fights end. You'll see a lot of great submissions and some serious knockouts. To me that's more realistic than every fight ending the same way in a knockout.
Q: In the film, Tom Conlon is fighting for his country and Brendan Conlon is fighting to support his family. What motivates you guys to press on and be successful?
Punkass: There is definitely an inner drive within myself that was probably formed during my childhood that came from not having money and living in a bad neighborhood but now I'm motivated to go get others motivated. To motivate my kids and others to be more and do more than they ever thought they could. I looked up to Charles like a big brother and I would only hope that my kids or someone I know could be similarly influenced by me.
Skyscrape: There were so many things in the beginning that motivated us like trying to grow the sport and the brand. Then when things really started taking off, Charles passed away. Once Charles died it kind of shifted to trying to continue on his legacy, for lack of a better word. This movie helps us do that because the first real legitimate MMA movie, has TapouT all over the movie and the end of it is actually dedicated to Chalres. Not all of the focus is on Charles but we certainly take his memory into consideration in everything we do.
Q: On August 5th you had a special viewing with guys like Urijah Faber, Anthony Johnson, Joe Silva and many other prominent members of the MMA community. How was the film received?
Punkass: Everyone at the screening said they loved it and I know they meant it! It will make you cry and it will make you laugh. It will be the Movie of the Year!
Skyscrape: It couldn't have gone better. After the screening, Urijah and everyone were all hyped about it. Urijah was hyped was I was talking to him at the weigh ins with Phil Davis and after talking to Urijah, Phil was disappointed he wasn't able to make the screening. When I was walking away, probably 50 feet away, Urijah just screamed out "DUDE! THAT WAS AN
AWESOME FUCKING MOVIE!"