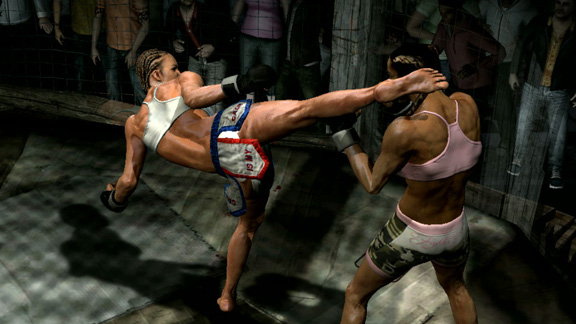 Fight fans can finally have a chance to play as the ladies in the upcoming "Supremacy MMA" video game!
According to the press release from the developers, Kung Fu Factory, Felice "Lil Dog" Herrig and Michele "Diablita" Gutierrez will both appear in the hard-hitting, and often times brutal game that features underground, unsanctioned, and unlicensed fights complete with illegal finishing moves that focus on choking out opponents and breaking bones. Herrig, who is 3-3 in pro fights, told ESPN, "Being one of the first women to represent MMA in a videogame is a dream come true for me. This is our chance to finally show gamers that female fighters can hold their own."
ESPN also claimed that "Supremacy MMA" will be the first MMA game to feature female fighters. This is actually only partially true, as they are the first game to feature female fighters, as in the plural. The first MMA game to feature a female fighter was actually "UFC: Sudden Impact" in 2003, which had Erica Montoya as a playable character in the lightweight division. A piece of trivia only a fight nerd would know!
"Supremacy MMA" will be available in June for the PlayStation 3 and Xbox 360.